The Northeastern Jurisdiction
The website of the Northeastern Jurisdiction of the United Methodist Church can be found here.  UMVIM is one of the Affiliated Organizations of the NEJ and is grateful to receive grant funding from them annually.  The Northeastern Jurisdiction is one of 5 in the United States and is composed of 10 annual conferences overseen by 9 resident bishops. 
---
The 10 Annual Conferences of the NEJ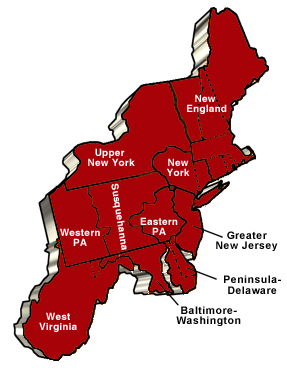 Annual Conference Web pages
Baltimore Washington Conference
Eastern Pennsylvania Conference
Western Pennsylvania Conference
UMVIM in Other Jurisdictions
---
North Central
Conferences:  Illinois, Indiana, Iowa, Michigan, Minnesota, North Dakota, Ohio, South Dakota, Wisconsin.
Rev. Tammy Kuntz, 8800 Cleveland Ave. N.W., North Canton, OH 44720
614-325-8741
Website: umvimncj.org; Email: umvimncj.coor@gmail.com
South Central
Conferences:  Arkansas, Kansas, Louisiana, Missouri, Nebraska, New Mexico, Oklahoma, Texas.
Karen DiStefano
Website: http://www.scjumc.org/mission/; Email: kdistefano@scjumc.org
Southeastern
Conferences:  Alabama, Florida, Georgia, Kentucky, Mississippi, North Carolina, South Carolina, Tennessee, Virginia.
Rev. Matt Lacey
100 Centerview Dr., Suite 210, Birmingham, AL  35216
205-453-9480
Website:  umvim.org; Email: matt_lacey@umvim.org
Western
Conferences:  Alaska, Arizona, California, Colorado, hawaii, Idaho, Montana, Nevada, Oregon, Utah, Washington, Wyoming.
Ronda Cordill
(509) 235-5466
Website:  umvimwj.com; Email: umvimwj@gmail.com