Read Recent Mission Stories
---
El Grupo de Bob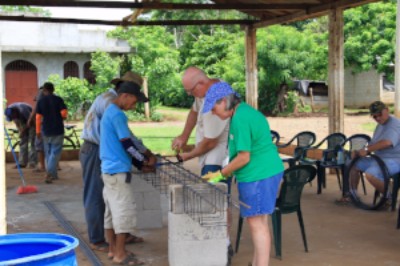 "Grace and peace to you from God our Father and the Lord Jesus Christ." (Ephesians 1:2 NIV)
With the single exception of last year (2016), this team consisting of members from Tennessee and West Virginia (and sometimes Rhode Island - Yay Jean!) has traveled to and worked in Guatemala in the name of Jesus every year since 2003. Although some of the team members have stayed the same, there have been many newcomers through the years! Several years ago the team was affectionately called "El Grupo de Bob" by the VIM Coordinator of the Methodist Church of Guatemala. The name is a reference to retired West Virginia United Methodist pastor Rev. Robert C. (Bob) Cole.
From July 4-14, 2017 the team worked in the remote village of Nueva Covadonga, located among pineapple and sugar plantations on the Pacific coastal plains of Guatemala. It was VERY hot and humid there, but God watched over us and helped us in our work. Our primary construction job for this year was to reinforce the columns on one side of the village's new, and much needed, community building. The Guatemalan government began construction in 2011 in an effort to garner votes for incumbent politicians, but after the elections of that same year the work on the building came to a screeching halt. When an engineer hired by Fundacion Herencia Viva (the organization we partnered with this year) evaluated the building, he determined that the existing columns would not be able to support the roof when it is finally put on, so the columns on the two long sides of the building have to be reinforced. We worked on one side this year, and we hope to work on the other side next year, if the Good Lord wills it.
In addition to the substantial construction work we were able to accomplish, we also spent considerable time connecting with the good folks of Nueva Covadonga. After all, that is the main reason we go on these trips, yes? To show our love for God, and to show the love we have for our neighbors (both near and far)? The people there are very poor. We rubbed shoulders with them in work and in play, and we conducted a two-day Vacation Bible School program for the children. Some members of the team were able to visit with a few individual families, and had the opportunity to present prayer shawls and blankets to some. The prayer shawl/blanket ministry of Elm Grove UMC in Wheeling, WV is longstanding and renown. I am thankful for that group of women who so faithfully gather, lovingly make, pray over, and send their items all around the world. One member of the team is a nurse. She held a Q&A on wound care with the community health committee, and gave advanced instruction on how to properly measure a person's blood pressure.
On the weekend of the trip, the team made the two hour journey to the Pacific Ocean (down Saturday, back Sunday). The ocean wasn't that far away from where we were staying in Mazatenango, but the "roads" to the beach were not conducive to driving very fast. Once there, we enjoyed fellowship and R+R together, and on Sunday morning had the awesome and sacred privilege of celebrating the Lord's Supper near the black sand beach. After returning from the ocean, we worked two more days in the village, then we traveled to the old capital city, La Antigua, Guatemala, which is closer to the Guatemala City airport. We spent our last two nights in that beautiful place, "praising God and enjoying the favor of all the people." (Acts 2:47 NIV)
"Peace to the brothers and sisters, and love with faith from God the Father and the Lord Jesus Christ. Grace to all who love our Lord Jesus Christ with an undying love." (Ephesians 6:23-24 NIV)
Robert Dean Cole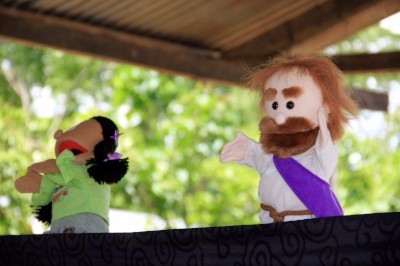 ---
UMW Ubuntu Journey to Mozambique
July 2017
Ubuntu? What does that mean? "—"I am what I am because of who we all are."
The essence of being human. Ubuntu speaks particularly about the fact that you can't exist as a human being in isolation. It speaks about our interconnectedness. You can't be human all by yourself, and when you have this quality - Ubuntu - you are known for your generosity. We think of ourselves far too frequently as just individuals, separated from one another, whereas you are connected and what you do affects the whole world. When you do well, it spreads out; it is for the whole of humanity.
I was asked to lead the Ubuntu 2017 trip to Maputo, Mozambique for the UMW. African UMW women from the North and South gathered together to learn about leadership, stories of scripture and do exercises that brought us together.  The American team consisted of 7 women from all over the US and one from Cameroon. We had two days of workshops, one day of travel to TingaTinga to visit a Methodist program that worked with children that was very informative and where we shared a meal with them as they entertained us with their singing and dancing.
 The team also was divided to visit 3 churches on Sunday in Maputo to share in the services, and there was also one day to do some shopping and site seeing.
New culture experiences and food were part of the highlight of the trip. I am very thankful to my hosts Rev. Victoria Cheifche and Alzira Isaac also to the Bishop's assistant Joao Sambo and his wife Delia who were our interpreters and driver for one day. We did get to meet the Bishop but it was at the airport in Johannesburg. She told us she knew we were Americans because we weren't bundled up. She had just come from a meeting and was on her way home to Mozambique.  After returning home she came down with a cold and that was our only meeting with her. We pray her cold was short lived.
It was a great experience and one more African country that captured my heart.
To see more pictures you can go to my Facebook Page Sandy Rowland Binotto
If you are interested in going on a Ubuntu trip you can gather the information on the website. http://www.unitedmethodistwomen.org/ubuntu  2018 trips are now being formed.
There is also a need for VIM teams in Maputo. If interested you may contact me for more information.
Sandy Binotto